DECODING FOOD LABELS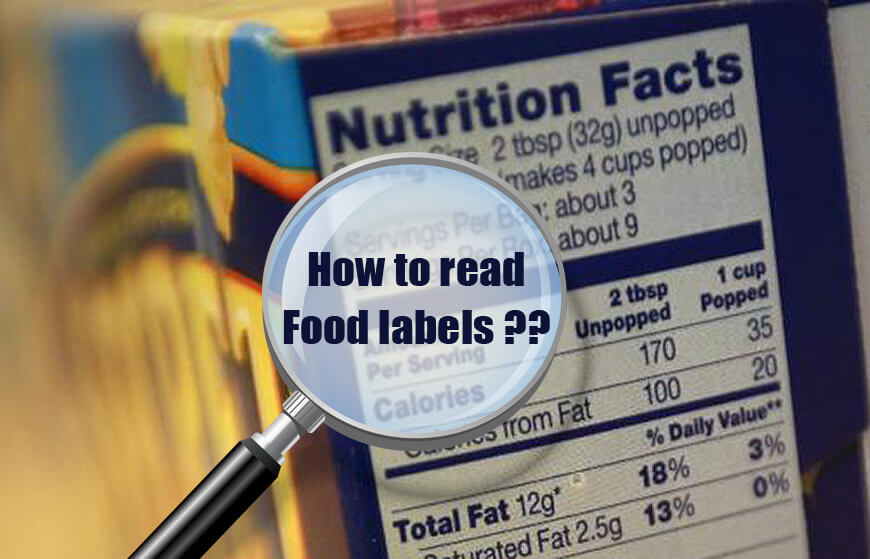 If you are trying to eat healthy, the nutrition label becomes a must-use tool for making better food choices. Once you learn to quickly scan and decode the food label for essential information, you will be able to shop faster, eat better, and if it is your goal, to lose weight easier. Food label is meant to help you make informed decisions that cater to your dietary needs. We have food label, but what does it really mean? its all about decoding food labels.
Nothing hits the spot like a gulp of your favorite energy drink after a long day on the field.  But just because it comes in a bottle you can fit in your hand does not mean you should drink it all at once. Serving size refers to the recommended portion of food or drink to be consumed. That way you know if you are drinking enough for you or for your entire roster. When you are in the grocery aisle, trying to compare similar products to choose your preferred option, the serving size can really throw off everything. This is because the serving sizes of similar products are not always consistent across the board and the nutritional information is adjusted to the serving size.  You could be comparing nutrition per 30 chips in one brand, with nutrition per 20 chips from another. That is something to look out for. It is also important to always compare your portion size (the amount you actually eat) to the serving size listed on the panel. If the serving size is one cup and you eat two cups, then you are getting twice the calories, fat and other nutrients listed on the label. Fact to consider isn't it?
All of us have different caloric needs based on how many calories we burn on a given day. So without a one-size-fits-all rule of thumb, how can you make food choices based on calories? If you know your own calorie needs, you can weigh that against the amount of good-for-you nutrients in a given option. For example, if a glass of juice and a small turkey sandwich on whole grain bread both have 250 kcal, it is generally better to choose the sandwich which supplies lean protein and fiber rather than the juice that has a lot of sugar and not much else. No matter what kind of eating plan you follow calories matter. Of course, when eating quality calories (foods that are more nutritious) you will have an easier time managing your weight. But it is also essential to eat the right number of calories each day. So, pay attention to the calories per serving and how many servings you are really consuming if you eat the whole package. If you double the servings you eat, you double the calories and nutrients as well.
Fat is essential in our bodies. Eating some healthy fat is good for your body and will help you to stay satisfied throughout the day. But fat is loaded with calories, so you need to choose your fat carefully and eat it sparingly. When you read food labels, first check the total number of fat grams provided by the food. Then check the values for the different types of fat present in the product. Avoid and limit intake of saturated fats, trans-fat and cholesterol and switch to consuming products with monounsaturated fats and polyunsaturated fats instead.
Saturated fat – Most experts recommend that you eat less saturated fat and more polyunsaturated fat or monounsaturated fat for good health. It's best to choose foods that have the lowest amount listed here.
Trans-fat- trans-fats are related to major health risks and are detrimental to the body. Try to choose foods with no trans-fat or as little trans-fat as possible.
Cholesterol – Your doctor may have told you to reduce your dietary cholesterol intake. If so, this number is important for you. Although it is fine to eat eggs and other sources of dietary cholesterol, most experts still agree that keeping an eye on your intake is important. Cholesterol comes from animal products and since our body makes its own cholesterol, we must surely watch the extras that we consume through food.
When the food label says a food contains "0 g" of trans-fat, but includes "partially hydrogenated oil" in the ingredient list, it means the food contains trans-fat, but less than 0.5 g of trans-fat per serving. So, if you eat more than one serving, this could be something to watch out for. Moreover, the claim "Cholesterol free" means that the product has very small amount(less than 2mg of cholesterol in the food specified) and it also indicates that the product is low in saturated fat and trans-fat.
Whether or not you're counting carbs, choosing better sources of carbohydrates is important for good health. Simple carbohydrates or sugars occur naturally in foods such as fruit juice (fructose) and milk (lactose) or come from refined sources such as table sugar (sucrose) or corn syrup. Added sugars will be included on the nutrition label. The food label can help you make better decisions about which food to choose. But you will need to look underneath the "Carbohydrates" listing to get the information you need. Check these numbers to choose good carbohydrates for your diet.
Dietary fiber- Fiber is your friend. You will feel full longer if you choose foods with more dietary fiber. Choosing foods with high fiber content, you may have an easier time sticking to your diet. Packaged foods that contain whole grains or vegetables like spinach are often good sources of dietary fiber. Some foods also provide added fiber which may also be helpful for healthy eaters. When a products says "Source of fiber" on the food label, it means that the food contain at least 2g of fiber in the amount of food specified. "High source of fiber" indicates that the food has at least 4g of fiber and 'very high source of fiber contains at least 6g of fiber in the amount of food specified.
Sugars – It is smart to watch your sugar intake if you want to reach and maintain a healthy weight, so you will want to check this number and choose foods that contain less sugar. But not all sugar-rich foods are the same. The food label makes it easier to choose healthier foods with sugar. On the label, you will see a listing for "Total Sugars" under carbohydrates. Always compare the amount of sugar in the food to the total carbohydrates in the product. This will give you an indication of how refined the product is. For example, medium fat yogurt has 15g of carbohydrates of which 8.5g is total sugar, so you can conclude that most of the product is sugar based and is going to be sweet. Try to choose foods with the fewest "Added Sugars." Foods with more added sugars provide empty calories that can increase your daily calorie intake and provide very little nutrition.  
Protein is another important macronutrient for maintaining muscle mass. When you select foods at the grocery store read food labels and aim to choose food that provide protein. But when you check the nutrition label for protein, scan the fat grams to make the amount is not too high. Many protein-rich foods are also high in saturated fat and some foods in the dairy aisle contain unhealthy trans-fat. So, always read your labels for a better comparison and healthier option. Eat moderate portions of lean meat, poultry, fish, eggs, low-fat milk, yogurt and cheese, plus beans and peas, peanut butter, seeds and soy products. Consume more of these! They are good for you.
Now to the stuff that is often missing from our diets. It is really important to get enough vitamins and minerals, so always look for fresh produce that are packed with these superstar nutrients. The numbers listed under the thick black bar give you important information about the healthy micronutrients in your food, too. If you choose foods that are more nutritious, it will be easier for you to build a strong, fit body. In a perfect world, dieters would choose foods that are low in calories and high in nutrition. Your body will thank you!
Sodium tells you how much salt is in the food. When it comes to sodium, most experts recommend that healthy eaters keep their sodium intake under 2300 milligrams per day. A "sodium-free" claim refers that the food product contains less than 5mg of sodium in the amount of food specified.
Foods with more than one ingredient must have an ingredient list on the label. Ingredients are listed in descending order by weight. Those in the largest amounts are listed first. Most packaged foods have to carry labels which show the percentage of the key or characterizing ingredients or components in the food. This allows you to compare similar products. For example, if sugar is listed near the start of the list, the product contains a greater proportion of this ingredient. Even with some high-quality products, it is common to see a few preservatives, emulsifiers, and/or binders. But those should be close to the last things listed, and they should not outnumber actual foods.
Allergens (usually mentioned below the ingredients list) are particularly helpful to individuals with food sensitivities, those who wish to avoid certain foods (nuts, gluten, wheat, eggs, milk, shellfish, etc.) due to religious or health issues.
Sometimes our favorite food packs a hidden punch of not-so healthy nutrients such as sodium, fat, added sugars, and cholesterol. The fact is your body needs all these substances to survive and thrive but we generally get plenty of them in our regular diets. So it is usually a good idea to limit the nutrients in our food products. We're not saying packaged foods have to be perfect 100 percent of the time, but we are saying you should have a standard for what fuels your body! Checking the ingredients before consuming will help you make healthier food choices.
BOOK WITH US NOW http://dietitiancenturion.co.za/shop/