WHY IS BREAKFAST IMPORTANT?
Breakfast like a King, Lunch like a Prince and Dine like a Pauper, famous as this phrase is, but do you follow it? During a busy morning, it's easy to let breakfast fall low in your list of priorities, but taking just a few minutes to have something to eat can really make a difference to your day. Breakfast kick-starts your metabolism, helping you burn calories throughout the day. It also gives you the energy you need to get things done and helps you focus at work or at school. Those are just a few reasons why breakfast is important.
BREAKFAST PROVIDES HEALTH BENEFITS
Many studies have linked eating breakfast to good health, including better memory and concentration, lower levels of "bad" LDL cholesterol, and lower chances of getting diabetes, heart disease, and being overweight. It's hard to know, though, if breakfast causes these healthy habits or if people who eat it have healthier lifestyles.
But this much is clear: Skipping the morning meal can throw off your body's rhythm of fasting and eating. When you wake up, the blood sugar your body needs to make your muscles and brain work their best is usually low. Breakfast helps replenish it. If your body doesn't get that fuel from food, you may feel zapped of energy — and you'll be more likely to overeat later in the day.
It also gives you a chance to get in some vitamins and nutrients from healthy foods like dairy, grains, and fruits. If you don't eat it, you aren't likely to get all of the nutrients your body needs.
Many people skip the morning meal because they're rushing to get out the door. That's a mistake. You need food in your system long before lunchtime. If you don't eat first thing, you may get so hungry later on that you snack on high-fat, high-sugar foods.
NUTRITION IN BREAKFAST
Breakfast provides the body and brain with fuel after an overnight fast – that's where its name originates, breaking the fast! Without it, you are effectively running on empty, like trying to start the car with no petrol!
It is advisable for to have our morning meal within two hours of waking. A healthy breakfast should provide calories in the range of 20-35% of your guideline daily allowance. People's energy needs vary depending on activity levels and life stage but typically men require more energy than women. Growing children require a lot of energy, as an example boys aged 7-10yrs should consume approx. 1970 kcals per day, and girls aged 7-10yrs should consume approx. 1740 kcals. For adults, men require approx. 2500 kcals and women approx. 2000 kcals per day.
Apart from providing us with energy, breakfast foods are good sources of important nutrients such as calcium, iron and B vitamins as well as protein and fiber. The body needs these essential nutrients and research shows that if these are missed in the  morning, they are less likely to be compensated for later in the day. Fruit and vegetables are good sources of vitamins and minerals so try to include a portion of your daily five at breakfast, whether that is a banana or glass of fruit juice.
Having the morning meal also restores glucose levels, an essential carbohydrate that is needed for the brain to function. Many studies have shown how eating breakfast can improve memory and concentration levels and it can also make us happier as it can improve mood and lower stress levels. In studies amongst children, breakfast can improve attainment, behaviour and has been linked to improved grades. Just like any other organ in the body, the brain needs energy to work at its best! 
BREAKFAST AND YOUR WEIGHT
Can a morning meal be good for your waistline? Some studies say yes. Researchers have found that on average, people who eat breakfast are thinner than those who don't. That could be because eating foods with protein and fiber in the morning keeps your appetite in check the rest of the day. The morning meal can be good for waistline too, research shows those who eat breakfast are less likely to be overweight and more likely to be within their ideal weight range compared with breakfast skippers. If you skip breakfast, you're more likely to reach for high sugar and fatty snacks mid-morning.
However, eating breakfast doesn't guarantee you'll fit into those skinny jeans. If you're dieting, don't think cutting calories by skipping the meal will help. Studies show that most people who lose weight and keep the weight off eat breakfast every day. On the other hand, you need to pay attention to what, when, and how much you eat.
WHY KIDS NEED BREAKFAST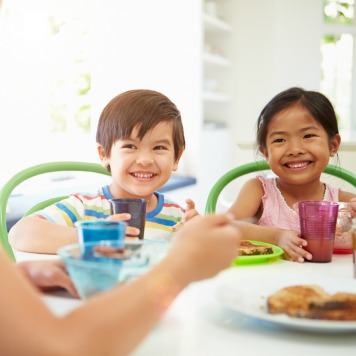 Sometimes children don't feel like eating in the morning, but it's important that they do. Their growing bodies need the nutrients and fuel.
Kids who don't eat in the morning. have a harder time focusing, and they become more tired in school. They may also be cranky or restless. And it isn't just their moods that can suffer. Their schoolwork can, too. One study showed that kids who ate breakfast had higher test scores than those who didn't. Most children don't get all the vitamins and minerals they need from just lunch and dinner.
Kids who skip breakfast are more likely to eat junk food during the day and be overweight. One study showed that teenagers who ate breakfast every day had a lower body mass index (BMI) than teens who never ate the meal or who sometimes did.
If your youngster doesn't want to eat in the morning at home, pack something he can have on the way to school or between classes. Opt for fruit, nuts, or half a peanut butter and banana sandwich.
A DOUGHNUT WON'T DO
You don't need to eat a big meal for breakfast, but it's a good idea to have something small within two hours of waking up. Even last night's leftovers zapped in the microwave will do.
Resist that pastry or doughnut, though. Your best bet is a mix of foods that have carbohydrates, protein, healthy fats, and fiber. Carbs will give you energy right away, and the protein will give it to you later on. Fiber keeps you feeling full.
Try a whole-grain cereal, low-fat milk and fruit, or a breakfast smoothie made from low-fat yogurt, fruit, and a teaspoon of bran. Nuts or whole-grain granola bars are also easy options.
Breakfast is an excellent occasion to eat together as a family when possible. Establishing good breakfast habits in childhood and maintaining them throughout adolescence may be an important factor in developing good eating habits that last a lifetime. So, breakfast really is the most important meal of the day!
REFERENCES
Breakfast: The most important meal of the day? International Journal of Gastronomy and Food Science. https://www.sciencedirect.com/science/article/pii/S1878450X17300045.
Does Skipping Breakfast and Being Overweight Influence Academic Achievement Among Korean Adolescents? Osong Public Health and Research Perspectives. https://www.sciencedirect.com/science/article/pii/S2210909916300169.
The Role of Breakfast in Health: Definition and Criteria for a Quality Breakfast. Journal of the Academy of Nutrition and Dietetics. https://www.sciencedirect.com/science/article/pii/S2212267214013550.

Effect of skipping breakfast on subsequent energy intake. Physiology and Behavior. https://www.sciencedirect.com/science/article/abs/pii/S0031938413001479.
BOOK WITH US NOW http://dietitiancenturion.co.za/shop/